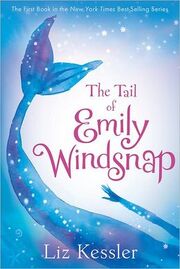 A young girl learns she's half mermaid and plunges into a scheme to reunite with her father in this entrancing, satisfying tale that beckons readers far below the waves.
Description
Edit
For as long as she can remember, twelve-year-old Emily Windsnap has lived on a boat. And, oddly enough, for just as long, her mother has seemed anxious to keep Emily away from the water. But when Mom finally agrees to let her take swimming lessons, Emily makes a startling discovery — about her own identity, the mysterious father she's never met, and the thrilling possibilities and perils shimmering deep below the water's surface. With a sure sense of suspense and richly imaginative details, first-time author Liz Kessler lures us into a glorious undersea world where mermaids study shipwrecks at school and Neptune rules with an iron trident — an enchanting fantasy about family secrets, loyal friendship, and the convention-defying power of love.
First cover (2003):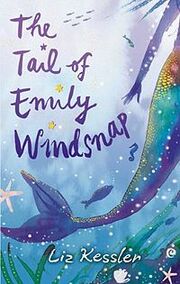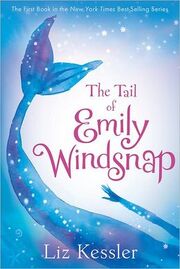 Second cover (present):  
Ad blocker interference detected!
Wikia is a free-to-use site that makes money from advertising. We have a modified experience for viewers using ad blockers

Wikia is not accessible if you've made further modifications. Remove the custom ad blocker rule(s) and the page will load as expected.