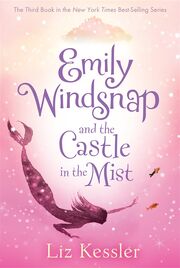 Dive in! The latest fin-tastic tale about a feisty half-mermaid introduces a mysterious boy who shares her fate.
Description
Edit
When Emily Windsnap discovers an old diamond ring during a class hunt for trinkets, how is she supposed to know that the ring is half the key to unlocking an ancient curse by Neptune himself? Now, with the ring stuck firmly on her hand, Emily finds herself under a new curse: in just a few days, she'll cease to be half-human and half-mermaid and must say good-bye to one parent forever. Can she possibly find the other missing ring that will break all the curses? Is there anyone who can help her — before it's too late?
Ad blocker interference detected!
Wikia is a free-to-use site that makes money from advertising. We have a modified experience for viewers using ad blockers

Wikia is not accessible if you've made further modifications. Remove the custom ad blocker rule(s) and the page will load as expected.