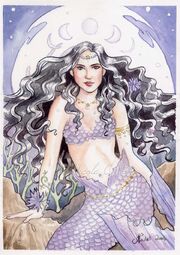 Althea is Emily and Shona's friend who lives on Allpoints Island.
Personality
Edit
Althea is kind and down to earth. She doesn't like many adventures, and prefers to hang out with her friends Marina, Shona, and Emily.
Appearence
Edit
Althea has long black hair which she usually ties back with a gold seaweed ribbon. She likes to decorate her green tail with shiny silver stars.